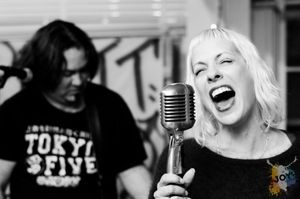 GIFTSHOP
GIFTSHOP formed in 2007.  Featuring members of The Hi-Scores and the lead singer of Bee Eater, they quickly discovered their unique 21 Century Punk/Alternative Rock/Pop musical style and recorded the five-song 800 Million EP.  The band then released Tourist Trap and Blue Monster  featuring fan-favorite originals and re-imagined covers.  GIFTSHOP's high energy and dynamic live shows earned the group a dedicated following in a particular neighborhood that propelled them to record BigInAstoria, which is a hashtag and 2019 EP. The pandemic did not slow the group down. GIFTSHOP recorded a single and shot the video for Stylish Junkie (2020) while the world was on lock-down.   The band participated in the April and September 2022 Otto's Benefit for Ukraine  partnering with Razom to provide essential support and stabilization.  In May 2022,  GIFTSHOP's Things I Feel  was featured on the season finale of ABC 's hit series The Rookie.  The band closed out 2022 recording the Diper Overload song for the - Scholastic Storyvoice Event.  Spring/Summer 2023 will include live shows in NYC at Culture Lab LIC, Tompkins Square Park, and Dominie's Astoria. A new EP is cooking in the recording studio right now!
GIFTSHOP: Meghan Taylor (Vocals), Matt Santoro (Guitar),  Damian Eckstein (Bass), Jordan Kramer (Drums).
Thanks for playing GIFTSHOP tunes on the radio: The Rodent Hour at Radio Free Brooklyn, Charlie Mason Radio for Moment of Eclection, LuckyStarRadio.com, The Underground Garage with Rodney Bingenheimer on SiriusXM, Jeff of the Future at WITR-FM 89.7 Rochester, Little Water Radio, KOR Radio, Radio Buzz 101, Whatever68Radio, Rock Bottom Radio (Australia), Rock the ROC at WRFZ 106.3 FM Rochester Free Radio, The Mike Rogers Show (Tokyo), Sick Podcasting Collective at Hanks Alternative Radio, Testifying Time Punk Rock Radio on VillageFM (Scotland), Ouest Track Radio (Le Havre, France), Musolist Radio, Queens of Noize (Australia), Real Punk Radio (NYC), Belter-Radio, (UK), Cobwebs and Strange Radio show at Artefaktor Radio. 
GIFTSHOP WAS HERE:
Ace of Clubs, NYC | Arlene's Grocery, NYC | The Arlo NOMAD, NYC | Athens Square Park, Queens | Athens Triangle: Astoria Music & Arts Block Party, Queens | Astoria Park, Queens | Bar East, NYC | Bar Matchless, BKLYN | The Bitter End, NYC | Blaggards, NYC | Bowery Electric, NYC | Buckley's, Valley Stream, NY | Cakeshop, NYC | Century Bar, Philadelphia | Coney Island Baby, NYC | Connolly's Klub 45, NYC | Crash Mansion, NYC | Culture Lab Sessions and Culture Lab LIC, Long Island City, NY | The Delancey, NYC | Desmond's Tavern, NYC | Dominie's, Queens | Don Hill's, NYC | The Dragonfly Tavern, Rochester |  Fontana's, NYC | The Grand Victory, BKLYN | Gussy's, Queens | HIFI Bar, NYC | Hogan's Hideaway for Park AVE Summer Arts Festival, Rochester | Irish Whiskey Bar, Queens | John Street Grill, NYC | Leftfield, NYC | LIC Bar, Queens | LIC Beer Project, Queens | The LetLove Inn, Queens | Lovecraft, NYC | The Lovin' Cup, Rochester | Lucky 13 Saloon, BKLYN | The Lucky Cat, BKLYN | Maestro's, Bronx | Make Music New York Summer Festival | Muchmore's, BKLYN | National Underground, NYC | North Fourth, BKLYN | Olde Prague Tavern, Queens | Otto's Shrunken Head, NYC | Parkside Lounge, NYC | Pianos, NYC | Public Assembly, BKLYN | R-Bar, NYC | Rehab, NYC | Rockwood Music Hall, NYC | Rodent Hour Radio, BKLYN | Shillelagh Tavern, Queens | Skylark Lounge, Rochester | SOFAR SOUNDS Chinatown Headquarters, NYC | Stathakion Center, Queens | Sullivan Hall, NYC | Tobacco Road, NYC | Tompkins Square Park, NYC | The Trash Bar, BKLYN | Underscore, NYC | The Well, BKLYN